Home
Window Awnings
Sunbrella Fabric Awnings
Sunbrella Fabric Roll-Up Window Awnings
Sunbrella Fabric Roll-Up Window Awnings
Product Description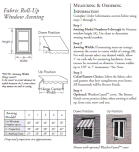 Roll-up window awnings made from the top of the line Sunbrella awning fabric. Designed to protect the windows and home furnishings from the direct and harmful sun rays. Also designed to allow maximum light exposure on those not so bright and sunny days.

Like all window awnings these roll-up awnings will help keep cooling costs down by as much as twenty percent. Unlike other window awnings these roll-up awnings can be covered with an optional bronze "no rust" weather guard cover preventing the need to ever have to take them down even in the winter or during periods of high winds.

Since these awnings roll-up you have the ability to adjust them into optimal positions to block out the vast majority of the suns rays. Best of all they are designed to be color coordinated with any of the other door canopies, window awnings and patio awnings found throughout the site.

A selection of color and patterns can be found at the Sunbrella Fabric Showroom located by clicking on the Sunbrella logo at the bottom of this listing. Be sure to write down your desired Sunbrella Fabric Color and the Sunbrella Fabric Number and make that choice under either Item 3A or Item 3B in the selection area of this listing.
Product Reviews